Spiritual Journey Here and in the Herafter
Tobi Hunt Events Presents: Spiritual Journey
Here and in the Herafter


Testimonial on 'Spiritual Journey, Here and Herafter', Oct. 29th 2013
Tobi,
You have such an amazing hand for bringing in interesting speakers on very different topics.
I really enjoyed the workshop 'Spiritual Journey Here and In the Hereafter Event' because it opened an entirely new perspective for me.
I don't think that I want to speak to departed souls myself, but there is something about being in the same room for many hours with several gifted psychics. It seemed to enhance my own meditation practice and I feel more open to the spiritual realm.
Everyone has their own path, and this is how it should be.
I believe, coming together for a workshop like this helps everyone grow spiritually. Thanks for your courage in putting this interesting information out there.
~ Hannah Hennig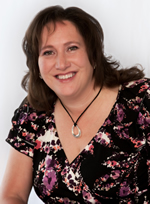 Sarina Baptista
"Connecting to the Other Side"
Sarina Baptista is an internationally renowned psychic medium, mentor, author and speaker. She is a featured speaker for the "Life, Death and Beyond" International Conference in Crete, Greece, and is the resident psychic for Clear Channel's Big Country 97.9FM in Northern Colorado. Her clients include adults and children from all areas of the world, including Australia, Italy, India and the UK.
Her purpose is to connect us to our angels, guides and loved ones, and teach us how to access this information on our own. She discovered her gifts through her own tragedy – the passing of her seven-year-old son in March 2007. She learned her son did not really die. He was still very close, leading her to her incredible mediumship gifts.
She has created several mediumship training programs, including one on one mediumship mentoring, long distance training, workshops and webinars to train others to connect with the other side. She holds monthly live events and development workshops demonstrating how we are all connected.
Sarina is also the Psychic Investigator Team Lead for Third Eye Paranormal Investigators, a Northern Colorado paranormal team, and educates home and business owners about these "residents" in their space.
Sarina's book about her journey, A Bridge to Healing: J.T.'s Story — A Mother's Grief Journey and Return to Hope, is available now through all major booksellers.
Sarina Baptista is the Bridge to Healing, connecting heart and soul.
Website:  www.sarinabaptista.com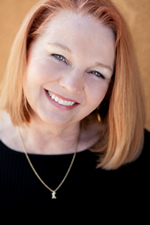 Donna Visocky
"There is Life After Death"
There is a life after death.
How do I know?
In 2003 my daughter Kristi was killed in a car accident. She was 21 years old. Her death sent me on a search for answers. Why did this happen to us? Is she ok? Where does one go when they die? Can I communicate with her? Kristi's death led me on an amazing journey, one I could never have imagined, to places beyond my comprehension and experiences out of this world.
Do I have proof? Maybe not the tangible kind those with an analytical mind might require. But all that I have experienced over the past ten years leaves no doubt in my mind that life does go on, that we are always connected to not only our loved ones but the divine energy of God and can tap into it ourselves whenever we are ready.
I know that death is not the end, merely the conclusion of one tiny scene in a never ending performance called life.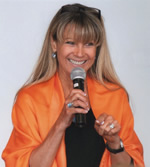 Sue Frederick
"Talking to Loved Ones on the Other Side."
Death is not the end.
Your loved ones who have passed are watching you, helping you, and healing you – though you may not know it. They want to see you thriving and fulfilling your soul's mission here – accomplishing your great work and using your pain as fuel.
At this event, you'll experience the presence of your departed loved one, and gain a new healing perspective on your pain and loss. Several audience members will receive a brief personal reading from Sue Frederick during the presentation.
Sue Frederick is the author of Bridges to Heaven: True Stories of Loved Ones on the Other Side; I See Your Dream Job & I See Your Soul Mate.
An intuitive since childhood, Sue draws upon dreams, ancient numerology, powerful intuition, and conversations with spirits to help her clients fulfill their soul's mission and use their pain as inspiration for a meaningful life. Her work has been featured in the New York Times, CNN.com, Real Simple, Yoga Journal and Natural Health Magazines.
Sue has trained more than 500 intuitive coaches around the world and she's been a guest on more than 200 radio and TV shows.
Author of I See Your Dream Job; I See Your Soul Mate; & Bridges to Heaven: True Stories of Loved Ones on the Other Side (St. Martin's Press)
Website: www.SueFrederick.com


Marlayne
" We Are Always Connected"
Marlayne realized at a very early age that she had a special gift to connect. Marlayne began with palm readings and quickly advanced to clairvoyant work. With over 25 years experience she relays information with amazing detail and precision. She enjoys helping people through life challenges and sharing her vision of your greatest potential. Marlayne's client list ranges from Hollywood actors, Wall Street brokers, CEO's, and anyone that needs a little guidance.
The workshops Marlayne conducts utilize her unique talents to expand intuition, connect with the present moment and develop an understanding of the universal laws of attraction.
Website: www.readingsbymarlayne.com